Why Support Our Work?
The Delmarva Land and Litter Collaborative serves as a national model nurturing diverse partnerships between agricultural interests and environmental concerns to identify, enhance and broaden leadership that works collaboratively to improve the productivity of agriculture lands and enhance the water quality of the Delmarva Peninsula.
Your support is vital in enabling DLLC to fulfill its mission and goals.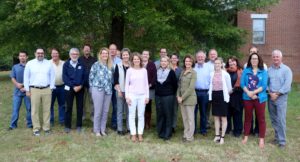 DLLC is a voluntary, unincorporated association of individuals and organizations directed and controlled by its Steering Committee. DLLC currently operates through the facilities of Solutions from the Land (SfL), a 501 (c) (3) organization focused on land-based solutions for global challenges. SfL functions as the fiduciary agent and legal host of the DLLC.
SPONSOR
You or your organization can directly sponsor one of DLLC's current projects. Funds go specifically to moving the work toward its end goal through contracting experts, supporting workgroup meetings, printing, developing materials and distributing the final product.
CURRENT PROJECTS
Innovative Solutions for Litter Use and Transport: Our DLLC members are actively involved in research and education to identify innovative solutions to remove barriers to litter transport and use on the Delmarva. This team works with researchers, haulers and farmers to move litter where it is needed.

Policy:

DLLC works to facilitate open communication among members, external stakeholders and decision makers about environmental and agricultural policies that relate to the mission of DLLC.

Chesapeake Bay Program model data initiative: DLLC members are working closely with the CBP to ensure they are receiving the data they need to improve the accuracy of their model specifically as it reflects on nutrients on the Delmarva.
Stakeholder engagement: DLLC is conducting farmer and community listening sessions to obtain firsthand information about the barriers of transporting and using chicken litter as fertilizer. This information further informs the Innovative Solutions and Policy work.
ANNUAL FUND
Your organization can contribute directly to the DLLC annual budget. DLLC has a small annual operating budget that is developed and approved by the DLLC Steering Committee. These funds go directly to support Steering Committee and workgroup meetings and communications and educational materials.
DLLC graciously thanks its supporters:
The Keith Campbell Foundation for the Environment
Harry R. Hughes Center for Agro-Ecology
Delmarva Poultry Industry, Inc
Maryland Grain Producers
Mid-Shore Regional Council
MidAtlantic Farm Credit
Sustainable Chesapeake
Chesapeake Bay Foundation
ShoreRivers
Nanticoke Watershed Alliance
The Nature Conservancy
Maryland League of Conservation Voters
Chesapeake Bay Commission