Why Support Our Work?
The Delmarva Land and Litter Collaborative serves as a national model, nurturing diverse partnerships between agricultural interests and environmental concerns to identify, enhance and broaden leadership that works collaboratively to improve the productivity of agriculture lands and enhance the water quality of the Delmarva Peninsula. 
Your support is vital in enabling DLLC to fulfill its mission and goals.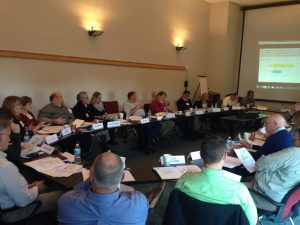 DLLC is a voluntary, unincorporated association of individuals and organizations directed and controlled by its Steering Committee. DLLC currently operates through the facilities of Solutions from the Land (SfL), a 501 (c) (3) organization focused on land-based solutions to global challenges. SfL functions as the fiduciary agent and legal host of the DLLC.
SPONSOR
You or your organization can directly sponsor one of DLLC's current projects. Funds go specifically to moving the work toward its end goal through contracting experts, supporting workgroup meetings, printing, developing materials and distributing the final product.
CURRENT PROJECTS
Mass Balance: For years, the agriculture and environmental communities have debated over how much poultry litter is produced and used on the Delmarva. Representatives from industry, land grant universities, state and federal agencies , farming and environmental nonprofits have been worked collaboratively to develop a methodology to calculate the nutrient mass balance on agricultural lands on the Delmarva.  This report will be released November, 2019.
State of the Delmarva Poultry Industry: Is the industry growing and how?  A unique group of environmental and agricultural representatives are working together to ask these questions and find the data sources to answer the questions. Working with Eastern Shore Regional GIS Collective, data from public sources and the industry itself was used to develop an online, interactive dashboard that demonstrates how the poultry industry has changed over the past 30 years on the Delmarva. This site will be release November, 2019.
Innovative Solutions for Litter Use and Transport: Our DLLC members are actively involved in research and education to identify innovative solutions to remove barriers to litter transport and use on the Delmarva. This team works with researchers, haulers and farmers to move litter where it is needed.

Policy: 

DLLC works to facilitate open communication among members, external stakeholders and decision makers about environmental and agricultural policies that relate to the mission of DLLC. 
ANNUAL FUND
You or your organization can contribute directly to DLLC's annual budget, which will support DLLC projects and the operations of workgroups and committees. Your donation will be put to work where DLLC has the most need.  The annual budget is developed and approved by the DLLC Steering Committee.
DLLC graciously thanks its supporters:
The Keith Campbell Foundation for the Environment
Harry R. Hughes Center for Agro-Ecology
Delmarva Poultry Industry, Inc
Maryland Grain Producers
Mid-Shore Regional Council
MidAtlantic Farm Credit
Sustainable Chesapeake
Chesapeake Bay Foundation
ShoreRivers
Nanticoke Watershed Alliance
The Nature Conservancy
Maryland League of Conservation Voters
Chesapeake Bay Commission