Why Support Our Work?
The Delmarva Land and Litter Collaborative serves as a national model nurturing diverse partnerships between agricultural interests and environmental concerns to identify, enhance and broaden leadership that works collaboratively to improve the productivity of agriculture lands and enhance the water quality of the Delmarva Peninsula. 
Your support is vital in enabling DLLC to fulfill its mission and goals.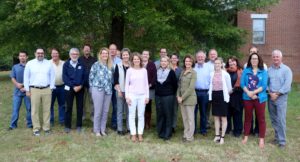 DLLC is a voluntary, unincorporated association of individuals and organizations directed and controlled by its Steering Committee. DLLC currently operates through the facilities of Solutions from the Land (SfL), a 501 (c) (3) organization focused on land-based solutions for global challenges. SfL functions as the fiduciary agent and legal host of the DLLC.
SPONSOR
You or your organization can directly sponsor one of DLLC's projects. Funds go specifically to moving the work toward its end goal through contracting experts, supporting workgroup meetings, printing, developing materials and distributing the final product. An example of such a product is the  Storyboard, Exploring Chicken Farming on Delmarva.
ANNUAL FUND
Your organization can contribute directly to the DLLC annual budget. DLLC has an annual operating budget that is developed and approved by the DLLC Steering Committee. These funds go directly to support Steering Committee and workgroup meetings and communications and educational materials.
To arrange a donation, please contact our Advancement Committee Chair, Bob Frazee.
Acceptance of a donation by DLLC:
Will be publicly acknowledged on the DLLC website.
Implies that the donor agrees with and supports DLLC's mission, vision and values.
Does not imply endorsement by DLLC.
Does not grant donor automatic permission to use the DLLC logo on their website or marketing materials.
DLLC graciously acknowledges our 2019-2020 supporters:
The Keith Campbell Foundation for the Environment
Harry R. Hughes Center for Agro-Ecology
Delaware Center for the Inland Bays
Sustainable Chesapeake
Nanticoke Watershed Alliance
MidAtlantic Farm Credit
Hutchison Brothers
JR Frazee Strategic Consulting
Diamond Ice Foundation