Delmarva Land & Litter Challenge
A partnership approach to sustainable poultry farming on Delmarva
The Delmarva Land & Litter Challenge
Farmers, environmental groups, and poultry companies, complemented by agricultural business and trade groups, academics, and government stakeholders, are working together as members of the Delmarva Land and Litter Challenge (DLLC) toward a healthier Chesapeake Bay.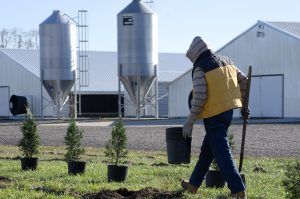 We believe that a constructive consensus-building approach is the best way to develop broadly supported solutions that address poultry related issues on the Delmarva Peninsula. DLLC supports pathways for land management that will improve the productivity of agriculture lands, enhance the water quality of the Chesapeake Bay, and strengthen the economy to preserve and protect the region's rural and cultural heritage.
DLLC members have committed to a mission and vision that includes both a vibrant and sustainable agricultural industry on Delmarva and a healthy and productive Chesapeake Bay. To achieve this, our members commit to the following goals by 2025:
Delmarva farming and poultry complex becomes a national model as an environmentally friendly and economically sustainable regional agricultural system;
Delmarva agriculture is regionally neutral in importing and exporting nutrients, and wherever possible, nutrients are recycled locally to support sustainable agricultural operations;
Nutrients are utilized in farming operations without negative environmental impacts on land and in adjacent waters; and
Growers are rewarded for producing high-value food, feed, fiber, clean energy, and ecosystem services.
DLLC Executive Committee
Amy Jacobs | Watershed Restoration Director, The Nature Conservancy – Chesapeake Bay Program
Andrew McLean | Poultry Grower, Relief Farm
Bob Gallagher | Founder, West/Rhode Riverkeeper
Bob Frazee | (Former) CEO, MidAtlantic Farm Credit, ACA
Bobby Hutchison | Farm Partner, Hutchison Brothers
Jeff Horstman | Executive Director, ShoreRivers
Michael Phillips | (Former) Director of Special Projects, Perdue AgriBusiness
Delmarva Land & Litter Challenge partners believe that significant progress can be achieved in meeting the nutrient reduction goals that have been established for the agricultural sector. Working together they are committed to supporting pathways for land management that will improve the health and productivity of agriculture and the Bay, while strengthening the economy that preserves and protects the region's rural cultural heritage. All stakeholders who embrace the Delmarva Land & Litter Challenge goals are invited to join in this grand collaborative to achieve these outcomes.