About the DLLC
The Delmarva Land & Litter Challenge (DLLC) is a knowledge sharing and problem-solving platform where collaborating partners work together to develop strategies to abate poultry related nutrient pollution on the Delmarva Peninsula without exacerbating problems in adjacent regions.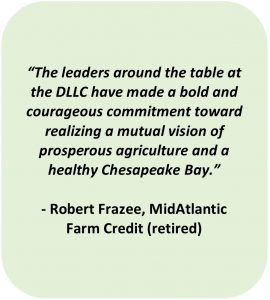 DLLC members believe that significant progress can be achieved in meeting the nutrient reduction goals that have been established for the agricultural sector in the three Delmarva states of Delaware, Maryland, and Virginia. Working together, we are committed to supporting pathways for land management that will improve the productivity of agriculture lands, enhancing the water quality of the Chesapeake Bay, and strengthening the economy that preserves and protects the region's rural and cultural heritage.
One of the DLLC's first products is a summary of Model Poultry Litter Transportation Program Attributes These recommendations are the result of a prolonged and thoughtful dialogue involving grain and poultry producers, environmental advocates and state government agency representatives. The DLLC Steering Committee reached consensus that adjustments need to be made to existing manure/litter transport programs in order to better facilitate the relocation of poultry litter without causing environmental degradation.
DLLC has developed a methodology to calculate the nutrient mass balance for nitrogen and phosphorous on agricultural lands across Delmarva.  An external technical review team provided an unbiased review of the results. The report will be the result of detailed data analysis and methodology that has been vetted by representatives of the environmental, academic, governmental, and agricultural communities.  The report will identify which counties in our region have a general surplus or deficit of nitrogen and phosphorus, and provide insight on where excess poultry litter exists relative to crop needs.
DLLC is currently working on an analysis of how the poultry industry has changed over time on the Delmarva Peninsula.
DLLC continues to examine and promote innovative solutions dedicated to nutrient management support.